CUBANO CUISINE BY CHEFS ALFREDO SOLIS AND JOSEph OSORIO
ABOUT LITTLE HAVANA DC
Located in Columbia Heights, just a few doors down from chef Alfredo Solis' celebrated Mezcalero Cocina Mexicana, Little Havana serves Cubano cuisine—Cuban food inspired by the entirety of Latin America. The menu includes soups, sandwiches, pastries, Cuban coffee and medium-sized entrees. The open kitchen anchors the restaurant, welcoming diners into the fullness of the experience.
Little Havana's bar program is led by Heriberto Casasanero, who cut his teeth at Founding Farmers, Reliable Tavern and Copycat. Tropical fruits and fresh juices with artisanal ice and an emphasis on rum and other classic Cuban cocktails will be the focus of the program.
To inquire about private events, please email us at hola@littlehavanadc.com.
Phone:
202.758.2127
Location:
3704 14th Street NW
Washington, DC 20010
Hours:
Dinner:
Friday-Saturday: 4pm-11pm
Sunday-Thursday: 4pm-10pm

Brunch:
Saturday-Sunday: 10am-3pm

Bar:
Monday-Friday: opens at 3pm
Saturday-Sunday: brunch hours + dinner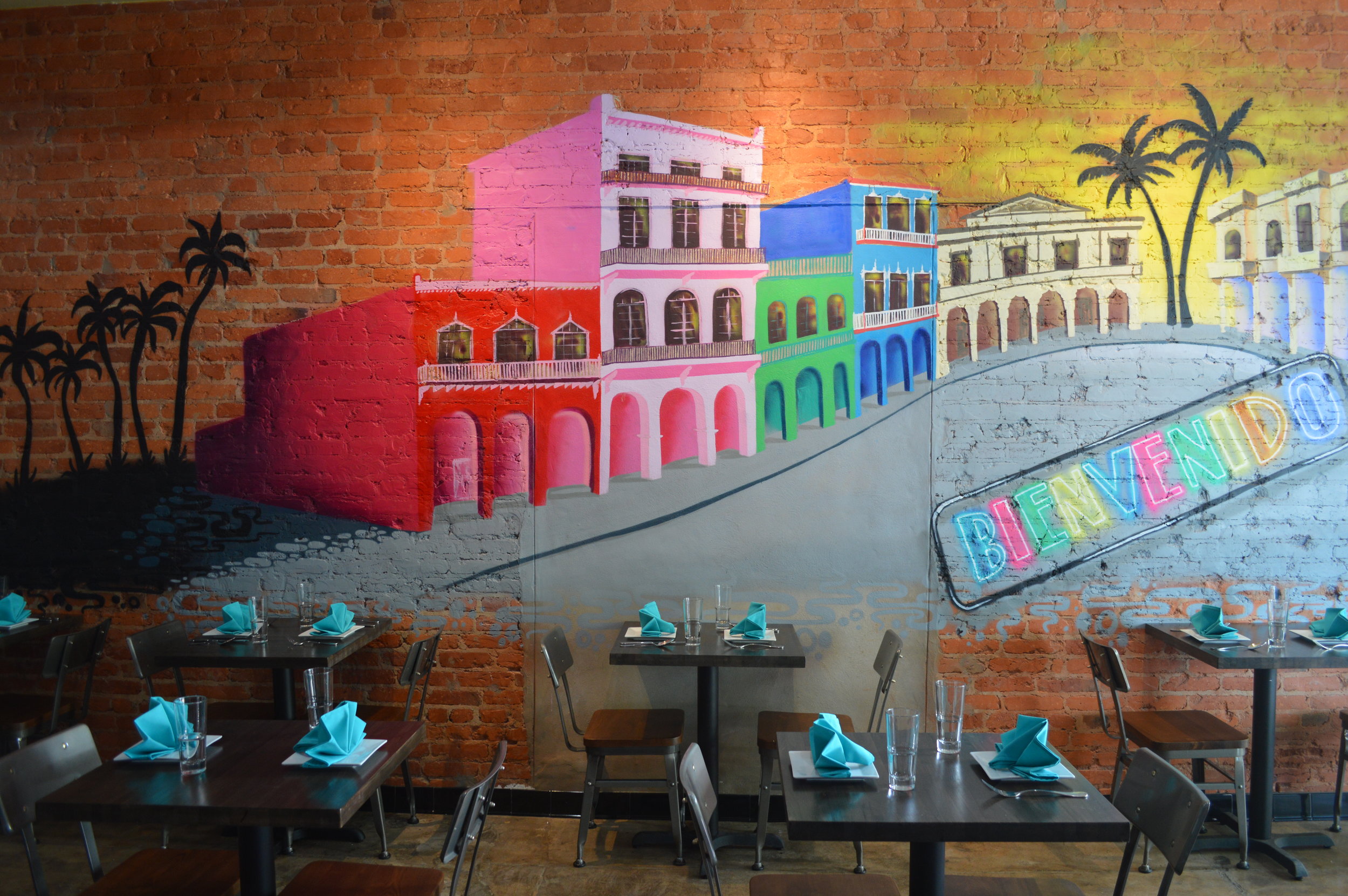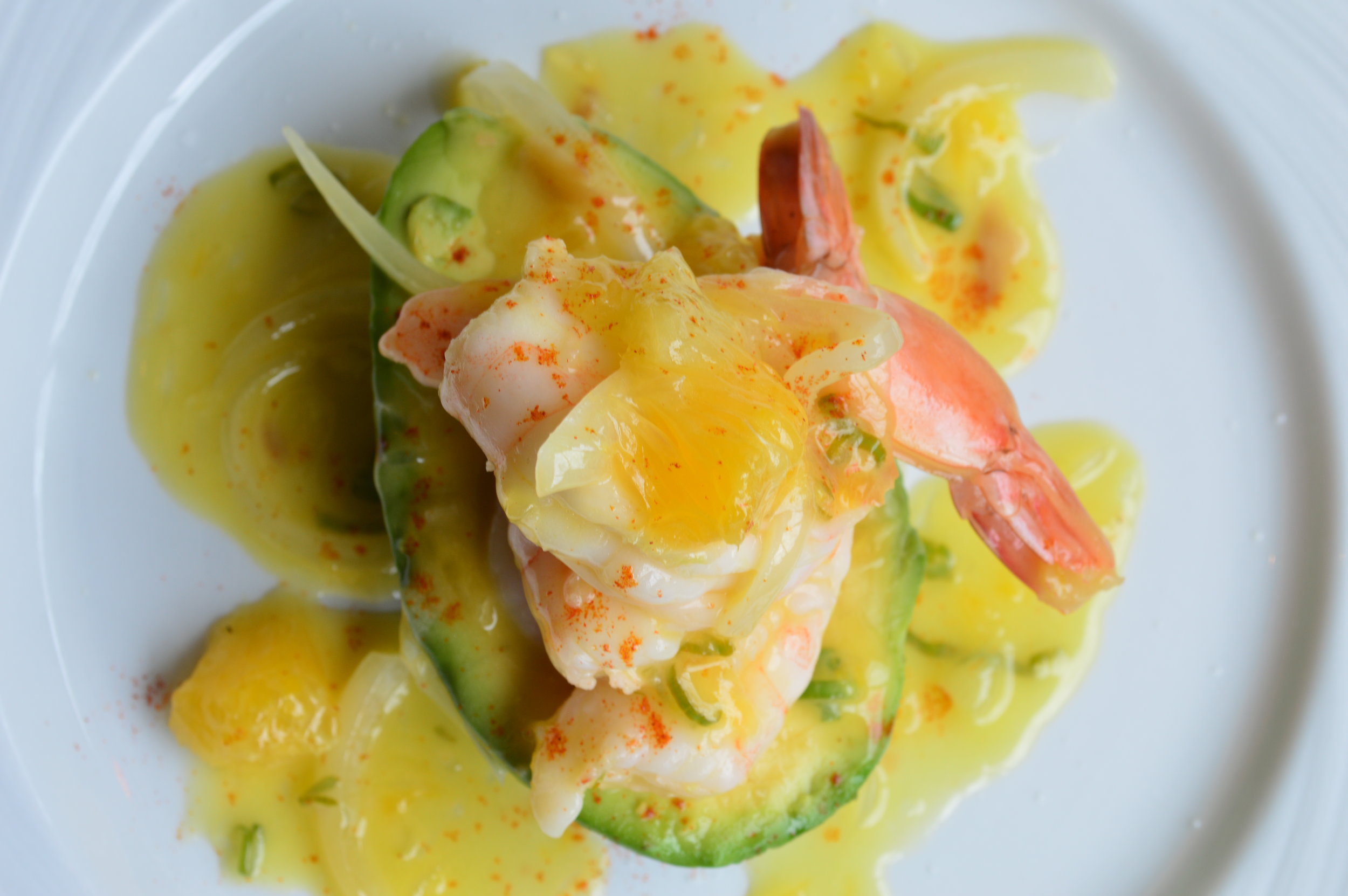 $

9
Chicarron de Pollo
fried crispy marinade boneless chicken thighs, garlic aioli
$

12
Camarones al Ajillo
sauteéd shrimp in a lemon garlic sauce over grilled bread
$

13
Mejillones
chorizo, potato, tomato, cilantro, green olives, pimento pepper, vino verde, grilled bread
$

9
Cuban Rolls
pork, pickles, swiss cheese, ham, garlic-mustard aioli
$

10
Toastones Rellenos
fried plantain baskets with choice of vegetables, beef, chicken or shrimp
$

9
Croquettes
breaded potato, ham, cheese, scallion, served with a pepper aioli
$

9
Empanadas
chicken sofrito, picadillo or vegetable and cheese, aji sauce, chimichurri sauce
$

13
Pulpo a la Parrilla
tender grilled octopus, potato bean salad, smoked gazpacho salsa
$

14
Camarones en Aguacate
sauteéd lemon garlic shrimp served over fresh avocados
$

18
Sugarcane Shrimp Skewers
grilled shrimp skewers, spicy guava sauce, congris, pineapple relish
$

24
Seafood Paella
lobster, shrimp, mussels, clams, chorizo, peas, carrots, pimento, green olives, rice, saffron broth
$

17
Tamarind Salmon
tamarind glaze, spicy mango salsa, corn, peppers, tomato
$

19
Pargo Frito
whole fried red snapper, pepper chifa, rice
$

22
Enchilado de mariscos
lobster, mussels, clams, shrimp, olives, capers, fish in a smoky mild creole stew
$

12
Fricase de pollo
Cuban style chicken stew, potato, pimento, green olives, over rice
$

16
Pollo a la plancha
marinated ½ boneless chicken, sweet plantain, yellow rice, red beans
$

18
Jerk Salmon
grilled salmon, jerk sauce, sweet plantain, congris
$

17
Ropa Vieja Short rib
slow braised short ribs in an onion, pepper, tomato sauce, rice, tostones
$

13
Lechon Caribe
slow roasted marinated pork, arroz con gandules, crispy pork skin, sweet plantain
$

15
Lengua en salsa criolla
slow braised beef tongue, criollo sauce, rice, fried cassava
$

17
Churrasco a la parrilla
grilled marinated skirt steak, yuca fries, chimichurri sauce
$

14
Spicy guava BBQ ribs
roasted tender ribs, guava BBQ, fufu mash, tangy slaw
$

28
LH-style Vaca Frita
pan fried ribeye, caramelized onions, lemon, mojo, rice, salad
$

16
Rabo Encendido
braised oxtail, in a spicy creole demi, rice, tostones
$

12
Cuban stuffed peppers
olives, rice, peppers, tomato, black bean, corn, cheese, romesco sauce
Sandwiches
Served with yucca frita or ensalada
$

12
Cubano
marinated slow roasted pork, ham, house made pickles, dijon mustard, swiss cheese, garlic-mayo
$

12
Jibarito
grilled sirloin, grilled onion, charred tomato, charred jalapeno, cilantro-mayo
$

11
Lechon
slow roasted shredded pork, tangy coleslaw organo-garlic-mayo
$

10
Pollo
grilled marinated chicken breast, jerk sauce, Swiss cheese, avocado, tomato
$

13
Blackened Fish
tomato, mixed greens, onions, pineapple tartar sauce
$

9
Hongo
grilled portabella, goat cheese, arugula, cilantro-mayo
$

9
Choripan
grilled chorizo, chimichurri sauce
$

8
Ensalada de casa
mixed greens, red onions, tomato, radish, cucumbers, citrus house dressing
Shrimp ($6)
Chicken ($4)
Salmon ($6)
Steak ($7)
$

9
Ensalada de Piña
mixed greens, grilled pineapples, avocado, cucumbers, tomato, honey-pineapple dressing
$

11
Mango Jerk Chicken Salad
mango, grilled jerk chicken breast, candied walnuts, mixed greens, mango dressing
$

11
Mango jerk chicken salad
mango, grilled jerk chicken breast, candied walnuts, mix greens, mango dressing
$

6
Cuban Black Bean
Cuban style black beans, chicharron, smoked ham hocks, smoked bacon
$

5
Caribbean Corn
fresh corn, yellow lentils, dumplings, carrots, sweet potato, in a coconut pepper broth
$

11
Smoked Salmon Lox
Cuban toast, bacalao spread, red onions, capers, poached eggs
$

12
Little Havana Huevos
two eggs simmered in tomato, ham cheese
$

10
Huevos Pericos
scrambled eggs with creole sauce, chorizo
$

11
Tortilla Cubana
potato, roasted pork, Swiss cheese, peppers
$

16
Bistec a Caballo
Grilled steak, salsa criolla, 2 eggs sunnyside up
$

13
Chicken & Waffles
chicharron de pollo, waffle, sweet burnt butter, maple syrup
$

12
Cuban Stuffed Portabella
olives, rice, peppers, tomato, black beans, corn, cheese, romesco sauce
$

10
Banana French Toast
rum-vanilla soaked brioche bread, sliced banana, caramel sauce, burnt butter
$

11
Panqueques
two pancakes, bacon, sausage, rum syrup, burnt butter
$

13
Ropa Vieja Hash
shredded short rib, sofrito, potatoes, two eggs
$

12
Ybor City Huevos
Cuban toast, lechon cakes, poached eggs, smoked paprika hollandaise
Sandwiches
Served with a side salad or yucca frita
$

11
Cubano
marinated slow roasted pork, ham, house made pickles, Dijon mustard, Swiss cheese, garlic-mayo
$

13
Blackened Fish
tomato, mixed greens, onions, pineapple tartar sauce
$

10
Pollo
grilled marinated chicken breast, jerk sauce, Swiss cheese, avocado, tomato
$

1.5
Toast
white, wheat or Cuban
$

5
Side Salad Tomato
avocado, cucumber house dressing
Pudin de Pan
bread pudding, spiced rum, carmel sauce, dulce de leche ice cream
Flan de Café
coffee custard, caramel sauce, whipped cream
Pastellitos de Guava y Queso
puff-pastry, guava paste, sweet cheese, whipped cream
Arroz con Leche
rice pudding, cinnamon, cream
Buñuelos de Manzana
fried dough, apples, caramel sauce
$

14
El Presidente
white rum, dry vermouth, orange liqueur, grenadine, orange bitters
$

12
Daiquiri Natural
white rum, lime, simple syrup
$

12
Mojito
mint, white rum, simple syrup, lime
$

14
Piña Colada
pineapple juice, coconut cream, aged rum
$

12
El Cubano Amargo
lemon juice, simple syrup, Campari, white rum, sparkling wine
$

13
Daiquiri de doble barril
Gosling's rum, Jamaican rum, lime, simple syrup, pineapple juice
$

13
Rum Punch de la casa
aged rum, lemon juice, orgeat, port
$

12
El Balsero
angostura bitters, coffee liqueur, orgeat, aged rum
$

12
Little Havana
white rum, pineapple juice, lime, grenadine, Absinthe
$

13
La Vida Es Un Carnaval
papaya, raspberries, ginger syrup, lime, white rum, 151 rum, Jamaican rum
$

12
Joyas del Archipelago
lemon, elderflower liqueur, white rum, sparkling wine
$

12
Jardines del Rey
honey, lime, white rum, vino verde
$

9
Sangria Roja
strawberries, oranges, raspberries, red wine
$

9
Sangria Sherry
green apples, pineapple, green tea, berries, sherry
$

9
Mimosa
your choice of fresh orange, fresh pineapple juice or juice of the day, sparkling wine
$

10
LH Bloody Mary
tomato juice, white rum, Worcestershire sauce, horseradish, hot sauce, Latin spices, surprise garnish
$

18 per person
Bottomless Mimosas or Sangria
(2-hour limit) your choice of any mimosa or sangria flavor
$

5
Fresh Juice
house-made orange juice, pineapple juice or juice of the day
$

3
Locally Sourced Qualia Coffee
includes one complimentary refill